All natural effective deodorant
Bee Fresh is an all natural effective deodorant
Made from 100% natural ingredients in compostable eco friendly packaging

Prevents odour from developing
Absorbs moisture without blocking pores
Lasts 12 hours

Contains NO parabens, aluminium or harmful chemicals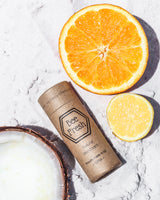 Bee Fresh Deodorant
Bee Fresh deodorant contains all-natural ingredients including coconut oil, beeswax, shea butter and a delicious mix of pure essential oils. We aim to use certified organic ingredients where possible, further enhancing its silky goodness. These ingredients have natural bacteria inhibiting properties and are mixed into a creamy and smooth balm, waiting to be rolled on.

Bee Fresh does not aim to prevent sweat. Instead, its formulation allows it to absorb the sweat and further prevents body odour. Sweating is our body's natural way of detoxifying. The bacteria inhibiting ingredients adjusts the PH level creating an environment bacteria cannot breed.

The deodorant is gentle on skin and is perfect for the whole family!

There is no need to mask any odours as Bee Fresh prevents body odours from occurring in the first place.
Shop Now
I have used it for a couple of days so far and I'm loving it!! I've struggled for so long to find a deodorant that can last through an entire day of dog grooming. Even the clinical strength deodorants have never been able to last through the day. This stuff is a life saver!!

Jennifer
1 full weeks trial and it is the best deodorant I have ever tried. I have tried so many natural deodorants but this is by far THE BEST!!! I love the creamy texture when I rub it in, even my husband tried and loved it. I work a physical job so it was put to the sweaty test. Thank you for this great product

Kylie
Really love this product, so nice on your skin!! Super easy to use! Would highly recommend to anyone

Lyndall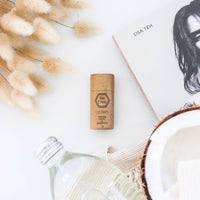 Finally, a natural deodorant that works!
Upon creating the original recipe, the Bee Fresh team was rigorously testing combinations of ingredients and testing results. We have altered the unique recipe over 50 times to get it 'perfect'.
Bee Fresh is gentle enough for delicate skin but strong enough to kick odours out the door. The balm melts on contact with the skin but is smooth enough to be delicately poured into compostable packaging, hardening into a citrus balm. 
We are committed to being a zero plastic business to avoid consumable waste and damage to our environment while maintaining our focus on sharing our natural deodorant with our customers, which remains at the forefront of our minds when selecting materials.
All of our packaging is 100% compostable.
Delivered to your door in a handy box. 
The team @BeeFresh